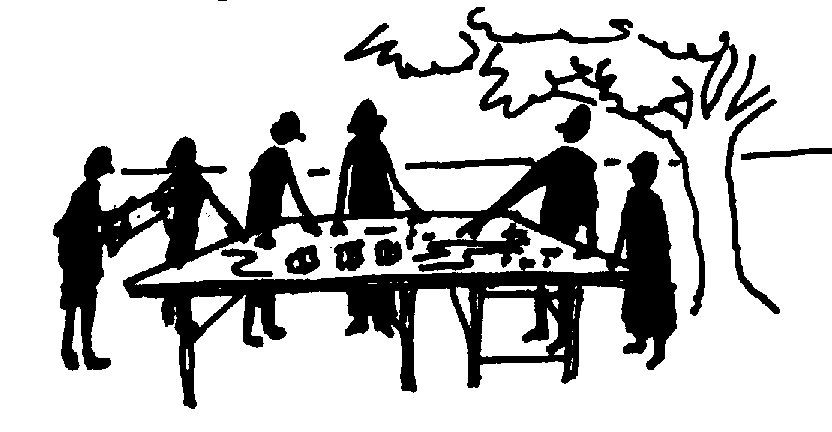 Basic Program Outline
The social aspests of this program are based in the concepts of Appreciative Inquiry as developed initially by David Copperrider.
Each program is specifically taiulored to the needs and interests of the host community, however a general outline would normally involve:
Initial meeting with whole community to outline the program, its aims and methodology. At this meeting the members of the project working group would be defined by the whole community.
Using basic diagnostic tools such as the mapping, and calender processes from Participatory Rural Appraisal, the working group would start to define the resourses available to the community.
The working group would develop a common interview protocol that will be used to allow all members of the community to tell their stories of the history of the community, especially in relationship to water resources and with an emphasis on the "highlights" of their experiences.
Using these stories, the working group will determine the basic aims and dreams of the community (in regards water) and develop long term objectives consistant with these dreams.
These defined dreams and long term objectives would be reported to the whole community through general meetings, posters, information displays and discussion groups.
When the whole community has agreement on the overall aims and objectives, the working group will start the process of investigating and defining the strategies and practices that may be available. All this this information will constantly be feed to the whole community, constant feed-back and input strongly encouraged.
During this process, the working group will also develop a large-scale model of the community and surrounding area - this phase could be conducted in partnership with the local high-school or youth groups.
A whole community/whole day planning event will be conducted by the working group. The focus of the day will be the model, with everyone having the opportunity to input ideas suggestions and solutions. Towards the end of this day, a etailed plan of action will be developed, clearly defining priorities and areas of responsibilities. Specific working/investigation committees will be formed to continue the development of specific parts of the plan.
The community now has a clear idea of its future direction. Working bees will be organised, funds levied or sought and specific projects planned and carried out. A committee will be used to coordinate the on-going activities and to regularly report to whole community meetings the progress of the works. The community will be encouraged to repeat and review the whole process at least every two years.
---
Webmaster: Skye